Last Updated on 7 December 2020
How Do You Choose a Mortgage Lender?
---
Key Points
Before you choose a lender, determine what you need from a home loan.
Loans from big banks often come with brand name recognition, but that doesn't mean they always offer the best value.
Comparing lenders gives you the best chance at finding a home loan that will fit your borrowing needs.
How do you choose a mortgage lender? First, you'll need to take a look at what you want in a home loan.
Ahead, we'll give you tips on choosing a lender, as well as answer some common questions that arise during the borrowing process.
Determining your needs
How do you choose a mortgage lender? Well, you should first think about what you need in a home loan. Some lenders are more welcoming of particular borrowing needs than others, which narrows your choices down right off the bat.
Fixed or variable rate
The first – and one of the simplest – choices to make is whether you want a fixed or variable rate loan. Most lenders offer both, but you'll have a better comparison pool once you choose one of the two.
The benefit of a fixed rate loan is that you'll pay the same interest rate for one, three, five, or seven years – depending on the lender and your chosen term.
Fixed rate loans often start at a higher rate than variable rate loans, but they also won't fluctuate with the market. The flipside is that if interest rates drop you'll still be paying the same amount.
Variable rate loans fluctuate with market changes, but also come with some additional features. You can make extra repayments to get ahead of your loan and withdraw the additional payments through a redraw facility.
Some variable rate loans also come with an offset account feature. An offset account is a transactional account linked to the loan. When your interest is calculated, it's based on the principal loan amount, minus any money you have in the offset account. The more you have in your offset, the more you could save on interest.
Some lenders allow you to split your loan. You can borrow a portion of your loan through the fixed rate structure and the rest through a variable rate loan. Such a strategy allows for a "best of both worlds" situation for some borrowers.
No frills vs. feature-heavy loans
Loans with features attached are often the standard loan from big banks. Although these added features can be nice to have, the market has shifted since they were introduced.
Part of this shift is driven by the greater confidence people have in smaller lending institutions – more on this ahead.
"No-frills" loans don't come with all the bells and whistles. Smaller lenders started the trend, but now some of the bigger banks have begun offering them as well.
These loans don't have many features attached. Instead, they offer a transparent low rate that's easy to compare with others of the same kind.
Comparing different lenders to find the best deal can be confusing. No-frills loans make it easier by simplifying what they offer and giving you all of the information up front.
Although no-frills loans do offer features like additional repayments and redraw facilities, most don't come with an offset account or home loan packages.
Offset accounts allow you to lower the amount of interest you pay, but not everyone has enough savings to make a dent in their repayments. And while packaging your home loan with a lender credit card or cash account can mean discounted rates, there are usually fees attached.
Deciding whether or not these extra features are valuable to you will be another consideration you need to make.
How much is your deposit?
Your deposit will also influence your needs when it comes to a home loan and lender. The standard deposit is 20% of the property price. If you have this much, your borrowing options are be wide open.
With a deposit that's less than 20%, you have a more limited pool of selections. For example, you may be restricted to low deposit loans, which means you'll have to fit additional criteria in order to qualify.
Securing a low deposit loan often requires Lenders Mortgage Insurance (LMI). This is insurance you will have to pay on top of your loan repayments. It protects the lender in case you default on your loan.
Some lenders – such as some of the smaller institutions – won't charge LMI unless you're borrowing 90% or more of the house price. Compare your options in detail if you're interested in a low deposit loan.
Big banks vs. small lenders
Until relatively recently, big banks like ANZ, NAB, Westpac, Commonwealth, and others dominated the lending market. These are the "Big Four" banks in Australia, traditionally where the bulk of Australians borrow their money.
Now, though, more people are turning to smaller building societies, credit unions, and other lenders for financing. A bigger name doesn't always mean a better deal, and borrowers are beginning to realise this fact.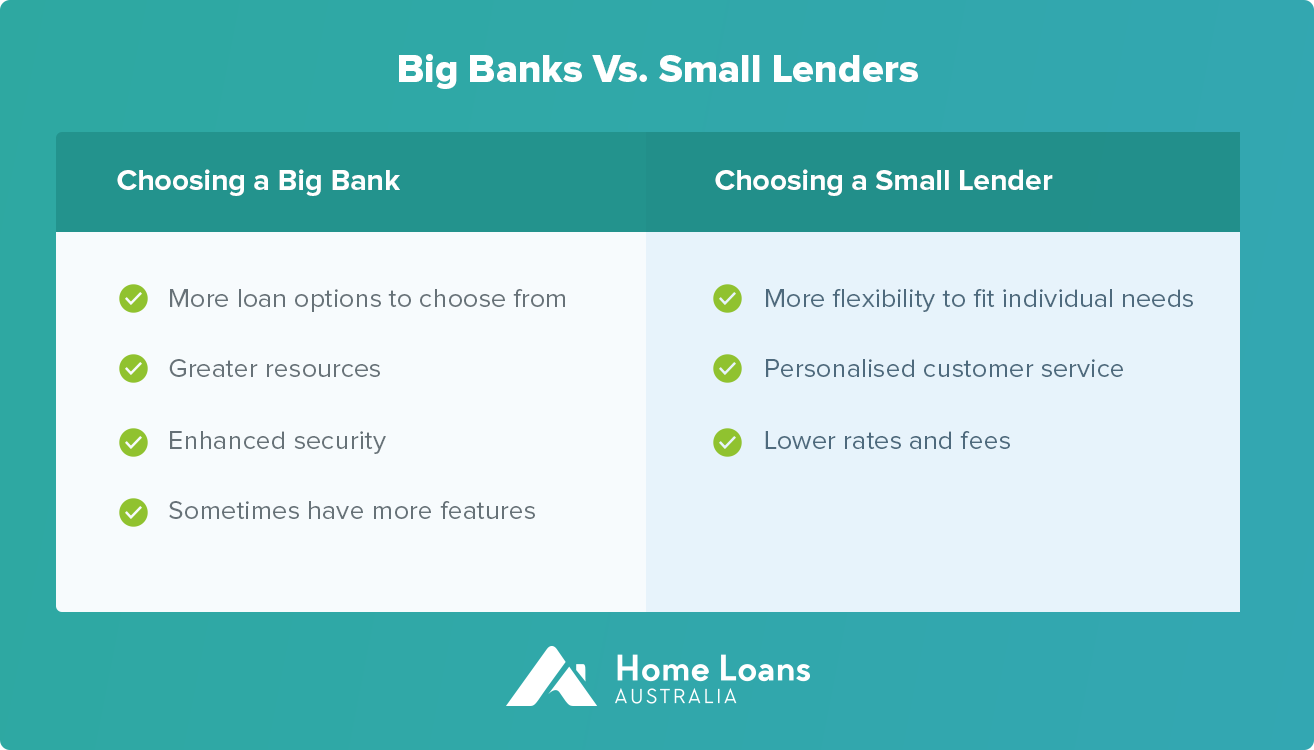 Larger banks traditionally have more resources, loan options, and features with their loans. This might seem like a positive, but there are several benefits to smaller lenders as well.
Smaller lenders have fewer clients, which means they're often far more responsive when you have a problem.
They also have the ability to charge lower rates than many of the big names in the lending industry. The fees attached may be lower as well, adding to the value you get by choosing a smaller lender.
The best benefit is probably the flexibility that smaller lenders have. They usually don't have a national presence, which means their loan officers are able to work with borrowers to get them a loan that fits their needs.
Borrowers who are self-employed or make a non-traditional income can often do better with smaller lenders because of their ability to work around your situation. If you don't have the traditional paperwork complete your application, you may find that a boutique lender is more flexible.
Comparing Your Options
There are many variables when it comes to choosing the right lender. Everyone's borrowing needs are different, and you'll have to consider things like:
How important are additional features?
How high are the fees associated with the loan? Early exit fees, property valuation fees, discharge fees, etc. These can add up.
How high is the interest rate?
Will I have to pay LMI?
Your answers to these questions will help determine the best loan for you. The answer to "how do you choose a mortgage lender?" will depend on your situation, but comparison will always be a part of it.
You can compare fees, interest, features, and overall cost for the term of the loan on our comparison site: homeloansaustralia.com. You can even chat with our home loan experts to make sure you're getting the best deal.
Ready to get started? Head on over to homeloansaustralia.com to compare some loan options that fit your borrowing needs.