Last Updated on 7 December 2020
Your Guide to No Deposit Home Loans
---
Key Points
No deposit home loans are rare and can be difficult to get.
You will need to have excellent credit, a good borrowing history, and regular income if you want a no deposit home loan.
There are certain strategies you can take – such as obtaining a guarantor or using a First Time Home Buyer Grant – to heighten your chances of securing a no deposit home loan.
Not everyone can save enough money to make a deposit on a home. For some, the answer to their problems comes in the form of no deposit home loans.
Although these home loans are rare and risky, there are some ways to maximise your chances of receiving one. This guide will help you to understand more about the topic and learn how to get started.
Borrowing 100% of the home's value
It's very rare to find a lender that is comfortable lending you 100% of a home's value. It's not impossible, but most banks and other lenders won't approve a loan without a deposit. Still, it's worth discussing the rare cases where it is a possibility.
Putting down a deposit for a home loan is usually a significant part of a lender's assessment criteria, so you'll have to make sure you check all of the other boxes if you want to take the no-deposit route.
After all, a lender is accepting far more risk when you don't have a deposit. The more you borrow, the riskier it is for the lender. You won't have any of your own money involved, so defaulting on the loan is much more of a possibility.
Lending is all about risk assessment. The riskier you are, the stricter the loan will be. No deposit loans are as risky as they come, and you'll need to prove you'll repay the borrowed amount to secure the loan.
Here are some of the characteristics you need to have to secure a no deposit loan.
As we've said, though, no deposit home loans are extremely rare in Australia. Many lenders won't offer them, even if you check all of the boxes we discussed above.
Getting a no deposit home loan
Borrowing 100% of a home's value without any backing is nearly impossible. Some people might be able to pull it off, but these are the exceptions rather than the rule.
There are, however, some options for you if you don't have the means to put a deposit on a home. All of these strategies may increase your chances of receiving a no deposit home loan.
Getting a guarantor on the loan
A guarantor is probably your best option if you're applying for no deposit home loans. A guarantor is someone who puts their finances behind the borrower. They vow to assume the debt if the borrower can't make the payments.
Most of the time, a guarantor is a parent or another close family member. You apply for the loan with their backing, and the lender will dig through the guarantor's history to make sure they're able to pay your debts if you default.
The guarantor will go through much of the same process that you will as the borrower. The lender assesses their finances, income, credit history, and debts to see if they're a worthwhile borrower.
In some situations, a strong guarantor may open the door to no deposit home loans. Some lenders even offer up to 110% of the home's value to cover common costs like stamp duty and legal fees.
It's usually not a good idea to borrow more than you need. You'll be paying interest on all of the money you borrow, and that extra 5% can add thousands to the loan total.
While guarantors put you in a better position to secure a no deposit home loan, they aren't always ideal. Missing a payment can count against your guarantor's credit history. You should only a guarantor if you're extremely close to the person and trust each other. Financial decisions like this can plant a wedge in personal relationships.
Gifts
Many young Aussies use a gift from an immediate family member (i.e. parents, siblings, or grandparents) as part or all of the deposit on their first home. Although this may seem like an easy solution if the money is available, some lenders may handle gifted deposits differently than saved deposits.
The reason for this is that lenders are looking for evidence of genuine savings. Deposits that are gifted late in the application process may require additional paperwork. For example, the person who gave the gift may have to sign a statutory declaration saying that the gift is unconditional.
You may also have to hold the gifted funds in your account for a period of time, usually around three months. Additionally, the lender may still want proof of genuine savings, usually at least 5% of the home's value.
Even with a gifted deposit, you may still find yourself looking for a no or low deposit home loan.
First Home Owner Grants
All states and territories in Australia offer a First Home Owner Grant for varying amounts. This grant is much larger in some states in others, but it will allow you to put a deposit on the house without using any of your own money.
You will have to meet certain criteria to receive the grant, however. The house needs to be your first home purchase and it needs to be your principal place of residence when you apply for the loan.
Here's a breakdown of the First Home Owner Grants in each state so you can better understand what to expect.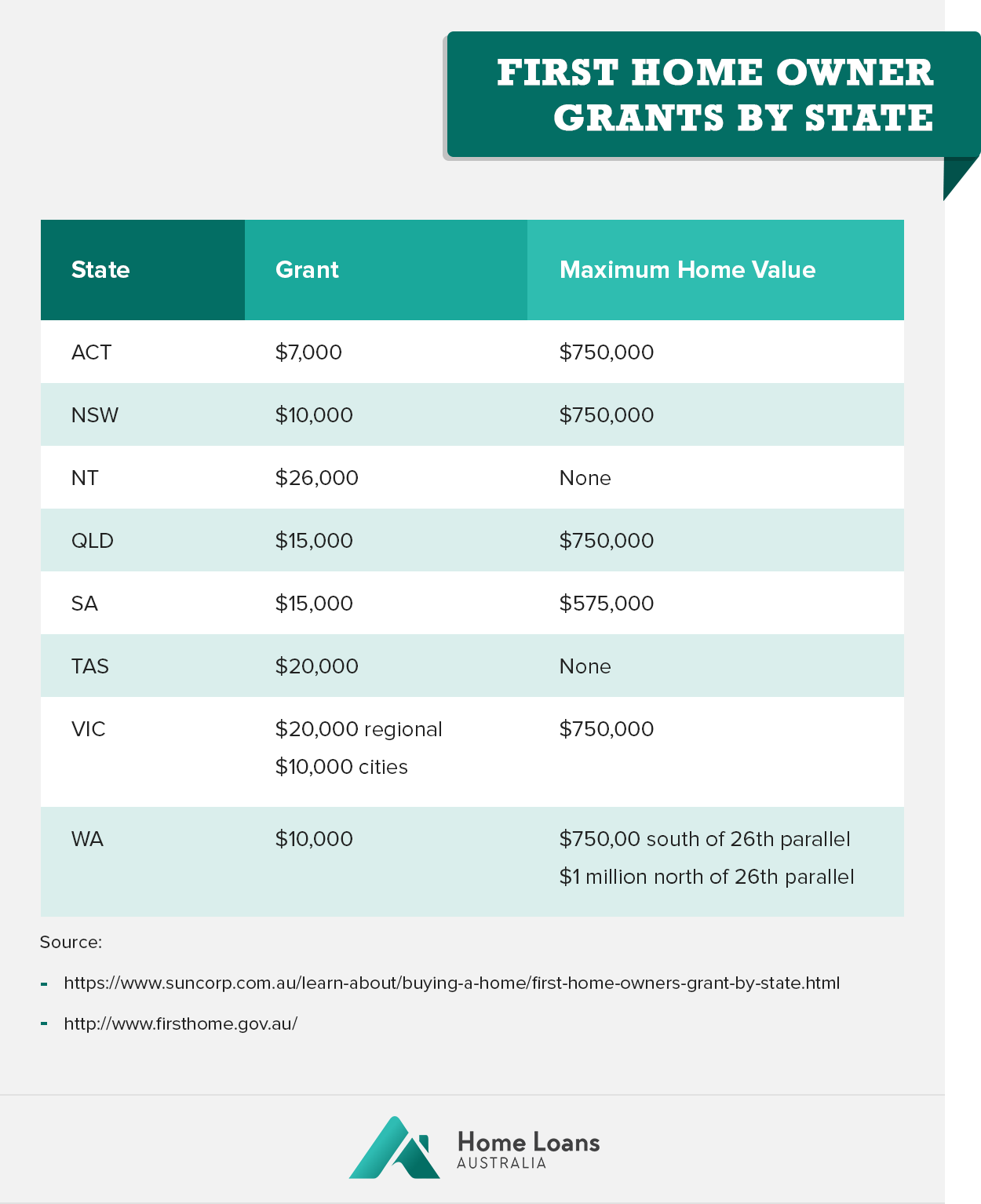 Equity
Not everyone will be able to receive the Grants we listed above. If this is the case, you may already own property. This could give you the option to leverage your equity in an existing property to use as a deposit.
Equity is the amount of your home that you actually own. If you put a $30,000 deposit on the home, for example, you'd have $30,000 worth of equity.
You can raise equity by making principal payments and improvements to the property, reducing the amount you have borrowed in proportion to the property value. You could then borrow against the equity you already have.
This is a risky strategy, however. Not only will you be paying two mortgages at the same time, but you put yourself at risk if the price of your initial property dips.
Personal loan
The last – and arguably worst – option is to use a personal loan to finance your deposit. The bank will still see this as high-risk because the deposit doesn't indicate genuine savings, so you'll need to have excellent credit and steady income.
Although this strategy isn't common, some lenders will offer you no deposit home loans when you use a personal loan.
Should you take out a no deposit home loan?
Taking out a no deposit home loan isn't the ideal situation. In a perfect world, you'd be able to put 20% or more towards the home you're buying, but that's not possible for everyone.
Those who secure no deposit home loans usually pay a higher interest rate along with Lender's Mortgage Insurance (LMI). The application process is lengthy and tiresome, and not everyone gets approved for LMI.
Lender's Mortage Insurance is an additional insurance you must buy to offset risk to the lender. This protects the bank in case you default on the loan.
You will also have to make sure you have all of your other financial situations in top-tier condition. That means great credit and a steady income stream. Unfortunately, it's especially unlikely that you'll get a no deposit home loan if you're self-employed.
On the other hand, using a no deposit home loan can help you enter the property market sooner than you would otherwise be able to. You don't need to save any money, and there's a chance you can earn equity through a rise in property prices.
In the end, only you can decide whether or not no deposit home loans work for you. Take a look at our comparison hub to begin comparing your options for no deposit home loans.