Last Updated on 17 December 2020
A step-by-step guide to refinancing
---
Key Points
Refinancing can save some people thousands of dollars.
Refinancing isn't always a good idea. If you plan on selling your home, have a low credit score, or have lost your job, you may not benefit from refinancing.
You can refinance your home in a few easy steps. Take a look at the infographic below to find out more.
Considering refinancing is an important part of owning a home.
Homeowners who are too complacent with their current home loan are missing out on potentially tens of thousands of dollars.
On the other hand, refinancing at the wrong time can actually cost you more money than it saves you. But how do you know?
In this guide, we'll tell you when you should consider refinancing, why you might want to refinance, and when refinancing could be a bad idea.
We'll also give you a step-by-step guide on how to refinance a home loan, so you know what to expect.
Should you refinance?
You might be asking the question: "how often should I refinance my mortgage?"
There's no simple answer to this, but you shouldn't refinance just for the sake of it—always have an end goal in mind.
There are some scenarios where refinancing your mortgage will make sense for you. You will have to keep a few things in mind, however, to avoid penalties that could end up costing you more money than you'll save.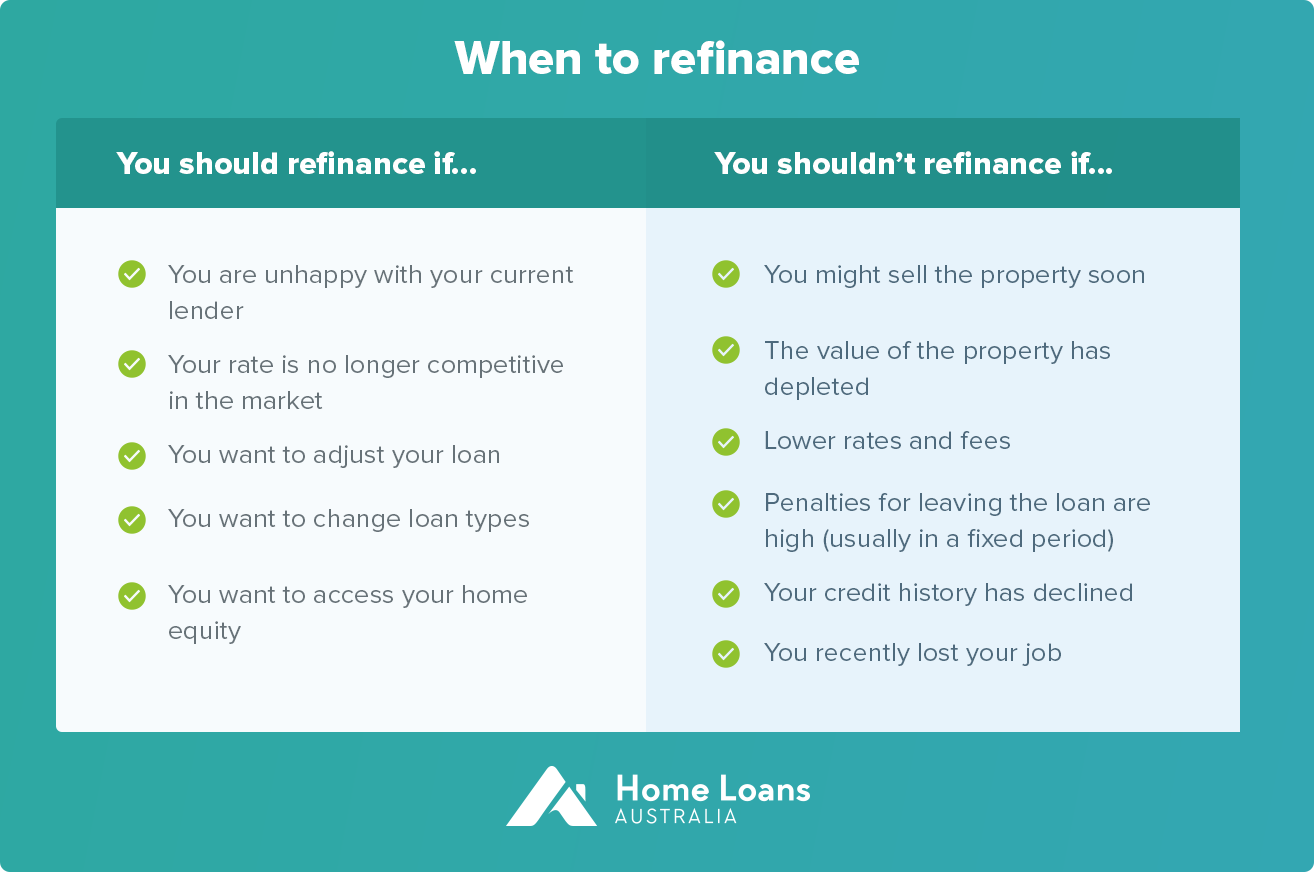 When you should refinance
Most of the time, people refinance a loan to get a lower rate. Their rate is no longer competitive in the market, and by refinancing, they are able to save money.
Of course, you'll have to be careful with fees here. Fees can cost more than you'll end up saving on your rate—in which case it makes more sense to keep your current mortgage.
Lenders will offer you the ability to refinance through them almost all of the time. When you do this, they may waive fees for staying with the same bank or other lending institution.
Saving money on your rate isn't the only reason a person might refinance. You might be willing to take the hit on the fees if it means moving to a lender with better customer service, for instance.
Many people also refinance to change their loan term or unlock equity. You might want to shorten your term with higher monthly payments, or on the flip-side, pay less each month so you have more money to spend on living.
You can unlock the equity in your home by refinancing if your property has increased in value over the loan term as well. Use that equity for improvements to increase the value further, or use it to pay bills in the short-term.
When you shouldn't refinance
Although refinancing your mortgage for a better rate, new lender or new term can be attractive at times, it doesn't always make sense.
The first and largest hurdle you'll encounter comes in the form of fees. You current lender will charge you discharges fees and your new lender may also charge application, settlement, valuation, and other fees associated with your new loan.
Then, you'll have to think about ongoing monthly fees, and possible Lenders Mortgage Insurance you may have to pay.
It's important to know and consider these fees when looking to refinance – even if you need to talk to a specialist. Some homeowners find that the hassle associated with refinancing their mortgage isn't worth it when they see the fees that impact their total savings.
You also wouldn't want to refinance if you've run into recent financial hardship. If your credit history has taken a dive or if you've lost your job, it's extremely unlikely that a new lender will give you friendlier terms than you currently have.
It also doesn't make sense to refinance your home loan when you plan on selling in the near future. Your sale will hopefully cover whatever you owe on the home, so refinancing right before selling usually isn't the best option.
How to refinance: a step-by-step guide
Ready to get started on looking for a new lender? Click here to begin your free comparison.